ABOUT US
Welcome to The Stadel
A bold imagination in concrete.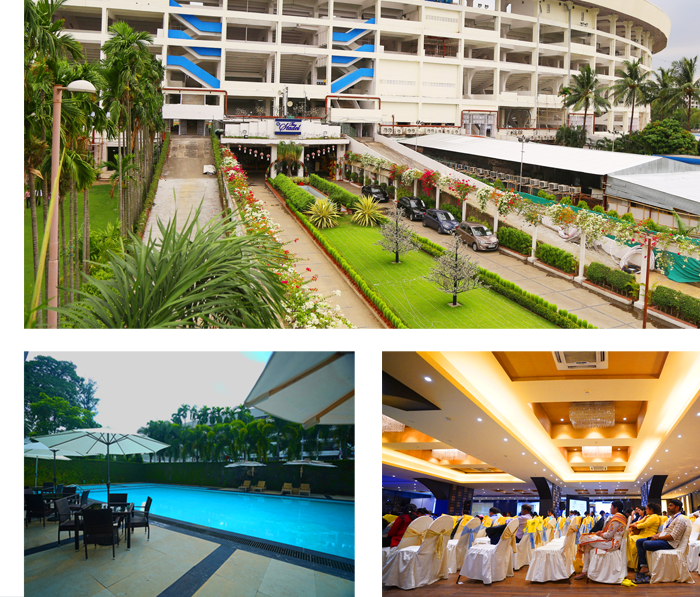 The Stadel, a three star boutique hotel & leisure club, is situated within the Salt Lake Stadium. Formally known as the Vivekananda Yuba Bharati Krirangan the stadium prides itself in being the second largest non-auto racing stadium in the world and the largest in the Indian sub-continent. It is perhaps the only hotel in India to be built under the Stadium ramps and is a pilot project highlighting the potential and the optimum utilisation of vacant spaces. Started on the auspicious day of the Bengali New Year i.e. 14th April 2003, the hotel within its tenure, has many milestones to its credit.
More than a decade old it has already made its mark in the hospitality industry in Kolkata. The vision behind the hotel was to create a world class budget three star facility for sportsmen and business travellers, with a host of hospitality services. The hotel management believes in nurturing the growth of the organization & its guests with its services. Growth that is manifold : individual, societal and organizational.
Over the years The Stadel has identified itself with the word 'unique' and has worked towards achieving the same status. its hosting of a range of multifarious sporting, cultural and social events have helped it to go beyond just being a name in the hospitality sector. The hotel has also been the progenitor of many creative causes and supports innumerable N.G.O's in pursuing their commendable work.
One of the strengths of the hotel is its food and beverage units that have featured in the list of various food guides regularly. The varied cuisines served through its various restaurants and bars add to the acute palates of its discerning guests. The guests have often remarked The Stadel as being highly warm and having a personalized approach to its guests. its ambiance too, is cosy, intimate and inviting.
With the increase of the business traveller globally, the need for budget hospitality alternatives has increased and questions arise in finding the best possible option for comfort and luxury at reasonable prices. The Stadel is an apt answer to all these concerns and has been constantly raising the bar as far as service, comfort and luxury standards are concerned.
Also part of the niche area in The Stadel is Club Stadel. Built over an expanse, it is the ultimate destination for corporate guests, who enjoy provisions for multiple clubbing options. The members feature the crème de la crème of Kolkata.
The Stadel's biggest strength till date remains its originality in ideas, quality services and evolution with time.
It prides itself on its ability to meet the unique needs of its diverse and ever-increasing customer base who leave satisfied, happy and loyal after every visit.